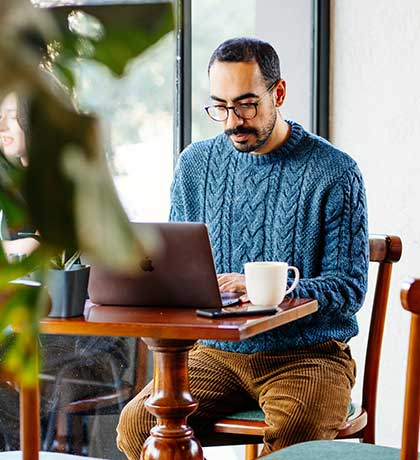 Online banking gives you account access and control 24 hours a day.
You have the ability to check your account balance, look up your transaction history and freeze your debit cards when you aren't quite sure if you left them at a friend's house.

Safe and Secure

Easy to Use

Easy QuickBooks® Integration

Send Money to Friends and Family
What services are available through Online Banking?


Secure Messaging – Chat with a Security Federal Bank representative
Account Management/History

Review/search transactions
Check account and loan balances
View checks and eStatements

Transfer Money – Transfer between SFB accounts or to and from other financial institutions
Send and Receive Money with Zelle®
Pay Bills/Bill Pay1

 

– Set up one-time or reoccurring bill payments
View Documents

eStatements
Loan Documents
Tax Documents

Download Transactions - QBO, QFX, CSV, TXT or OFV files available
Set Alerts – Make sure you receive alerts concerning balance levels, transactions and deposits
Add Transaction Notes and Images – Upload receipt pictures or make notes about transactions
Debit Management – Temporarily de-activate your card, report lost/stolen or re-order card
Add Multiple Accounts – View multiple accounts under the same log-in

Frequently Asked Questions
How do I set up online or mobile banking?
Go to

 

www.securityfederalbank.com and click login or download the Security Federal Bank App.
Click Enroll.
Enter the information requested on the Enroll screen (SSN/EIN/ITIN, Account Number, Email and Phone Number), and the select Next.  The phone number and email address must be the email and phone number on file for the account.  Please contact the bank, if you need to update your information.
Enter the verification code sent via text, and then select Verify.
Read the user agreement, and then select Agree.
Create a username and password by entering the information in the Username and Password fields, and then select Next.
How do I reset or unlock Online/Mobile Banking?
If you are locked out, you can reset your password through the online or mobile banking platform or you can call 803.641.3000 to have your password reset during normal business hours.
Online and Mobile Banking Option:
Go to

 

www.securityfederalbank.com

 

and click online banking or open the mobile app
Click Forgot Password
Enter your SSN or EIN and your account number
A verification code will be sent to the phone number on the account
Enter the verification code
Create a new password
Where do I sign-up and find my eStatements?
Signing Up
Sign into Online Banking or the App
Select an account from the Accounts section on the dashboard
Click Documents (all future statements will be found under Documents)
Click Sign Up/Changes
Choose the account(s) you would like to enroll in eStatements and follow the instructions displayed
Accessing eStatements
Sign into Online Banking or the App
Select an account from the Accounts section on the dashboard
Click Documents
Choose the account associated with the eStatement you would like to see
How do I set up transaction and account alerts?
Sign into Online Banking or the Security Federal Bank app
Select an account from the Accounts section on the dashboard
Click Alert Preference to customize account alerts
How do I set up Bill Pay?
Sign into Online Banking
Select Pay a Bill from the dashboard
Select Enroll
Read and Accept Terms and Conditions
Under Payments on the Dashboard, click Pay a Bill, Pay a Person or Manage Payments
Various fees may apply.  Please reference the Personal Deposit Account Miscellaneous Fees for details.  Daily limits apply.
How do I turn on and off my debit card?
Sign into online banking
Click the card you want to manage under Card Management
You can toggle between on and off in the top right corner.  Once it is off, no transactions will process.  When you turn it back on/green, the card is active again.
If you choose, report card lost/stolen or re-order card, your card will no longer be available for use.  
How do I pay a SFB Loan within Online Banking or the App?
Sign into Online Banking or the App
Click Transfer
Choose From - Deposit Account
Choose To - Loan Account
Click Submit
---
1
To sign up for Bill Pay, you must use a personal computer (not a mobile device or tablet) for the initial setup.  Daily limits apply. 
Sign up to receive the
Security Federal Bank newsletters
* indicates required fields
Thank you for signing up!
Someone from our office will reach out to you soon, if necessary.